This weekend was lucky, relaxing and productive. To start off we were able to get my amazing Aunt to watch both kids all day Saturday and then my husband's parents wanted to babysit them on Sunday. Hence, we were kid free!!! It was amazing I will not lie. I did miss the heck out of the them, but sleeping for more than 5 hours was much needed. What we did with our time was this...
We painted. Well I taped...

And He painted...
After a rain, I got to witness this...
We watched The Hunger Games on our big screen...(Also watch the Girl with the Dragon Tattoo)
Yet again another crazy sky...
And then the sun shone down upon us...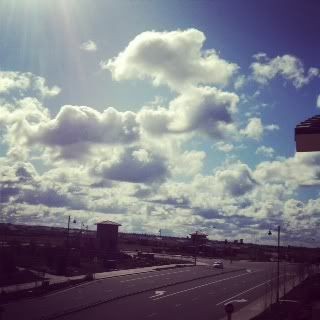 Other than that, I got to run some errands alone (amazing), and was in my pj's almost all weekend!
This week is going to be filled with post of crafts and lovely days with my girls and hubby. I love spring break, even though I secretly feel guilt/weird that I'm not doing loads of homework.