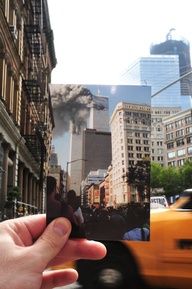 I can't believe that 11 years has gone by since this day changed life's. Every one knows that we as American's as people with hearts will never forget what happened on this day 10 years ago.
10 years ago I was 15 years old and woken up by my mother who whispered "Honey wake up. You don't have to go to school, but you need to come down stair right now. Something has happened". Something has happened. Walking down stairs and seeing the smoke from the towers and watching the second plane crash. tears were rolling down our faces. Me and my mother and sister sat in front of the TV all day just in horror. We cried for those physically going through it and for those of us watching from a distance.
I know that I will never forget the sadness of that day. Still thinking of everyone lost that day. May you some how find peace in the fact that America will NEVER forget each and every one lost, every hero, and every loved one left behind.
So, what were you doing 10 years ago?