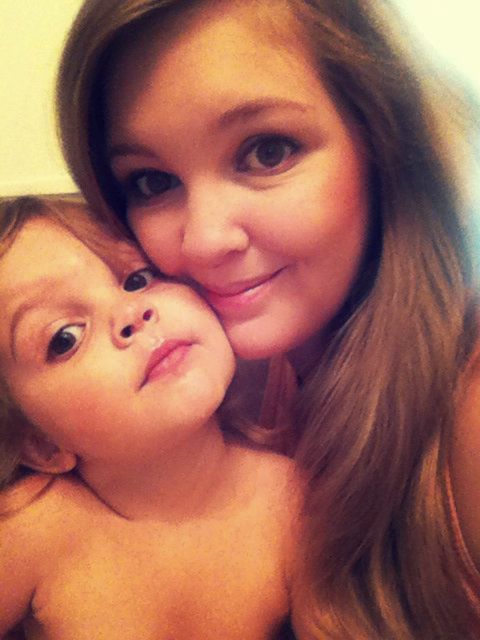 I was looking in the mirror and before I knew it 20 minutes had gone by and I had just been staring, looking at each feature and breaking me down. My history defines me in that each burst of laughter caused wrinkles, and slight worry lines define where my emotion has been. As I see myself aging over the years I see it creeping, my face is changing, my body even more so.
I think I got lost for a while as to what I want to look like and what emotions I want to display on this body of canvas. As I looked deeper at each split end and pair of bushy eyebrows (man, I need to tweeze), I look beyond the artificial clear completion as I wipe away the concealer. I rub off the thickness of the mascara and look at the bare eyes that stare before me. They aren't as fierce as when I wear my eye makeup-mask. They look more used and tired looking, a little puffy and a little red. But they came to look this way from late night bottle runs, teething gel supermom, and extra nights working new shop designs.
I look at the 3 permanently popped blood vessels that appear like little red dots, and I see the labor I went through when I had no drugs and I was pushing my hardest to get the baby out. I look at my bare arm and I see freckles from being a childhood beach baby. I see that now a days, they are bigger, and a little more defined from all the baby lifting, car seat swinging, and rocking of babies to sleep. Below that, I see my hands. Those too are beginning to show signs of wear and tear. A little too rough for being womanly hands, little scars from clumsy accidents of my past are just the beginning. My nails are slightly weak and bitten down (I need to remember to take my vitamins). I paint my nail at all times, because my thumbs have bumpy nails and look ugly bare. Soon, I see where my hands lie, next to my stomach. Oh God, not the stretch marks that reflect that extra milk shake I would huff down when I was preggo and of course the 2, 7 pound babies I huffed out.
I have a little extra skin now, memories of warming my babies as they grew inside of me. It still trips me out that we as women actually grow human beings in us. Beyond my belly making abdomen, I see thighs thicker, hips wider, paper white skin and even more stretch marks. My feet are longer now from growing a half a size with each child. My husband jokes that my feet are clown approved. I am imperfect beneath what clothes me. I fake a perfect face. I grow my hair long so people see it, and not the rest of my imperfection.
With all this imperfection how does one reflect confidence, or laugh at silly moments. How does one not worry about enjoying life when imperfections are appearing as time evades me?
Close your eyes and own it.
Remind yourself that you are strong, you can do anything.
Life, laugh and love is what it comes down too. I want people to remember me as the one who laughed often with her children and loved ones. I want to be remembered for the love I poured into others hearts, not the worry of being imperfect around them. I want to be remembering for the life I loved and not the life I planned on living. I want to be remembered for how I made people feel and not how people saw me.