As a child I pretty much counted down to the second when my birthday would arrive. It was such an exciting time to be celebrated in such a grand setting as my Birthday. I always thought it was only special to me and me alone because I got the presents and cards and the party was all about ME ME ME. Sounds kinda selfish as I'm typing this up, but in all honesty this is what I thought.
Now that I have two kids of my own and Birthdays keep coming around I am finding that I was wrong for the past 24 years of my life. Birthdays are not just for the person being celebrated. I didn't just celebrate my daughters 2nd anniversary of her birth. I felt just so much more. Pride was a feeling that seemed to leap out of me through out the day. Proud that so many people came to party with and for this precious girl of MINE. Proud, that me and her father could put the effort in to throwing a party for her and lavishing her with gifts. Having so many close friends and family member nearly brought tears to my eyes. I kept thinking, "Wow, I am not the only one who loves this little lady to death." Hence, the LOVE I felt through out the evening as well. By the end of the evening, people started to drift toward their cars, with goodie bags and tuckered children tagging along. As my husband (Brian) and loaded up the car, packed the never ending pile of gifts and somehow got the kids in too, we headed home with the biggest smiles on our faces.
Later that evening after the kids were tucked in, and pj's on we both reminisced at the love we felt surrounding our special daughter and then passed out asleep. Both of us woke up in the middle of the night to move to our bed, not even knowing how we fell asleep in the first place. So the final feelinG I would like to share is EXHAUSTION. Oh boy are parties exhausting.
I hope you enjoy some pictures from this special day!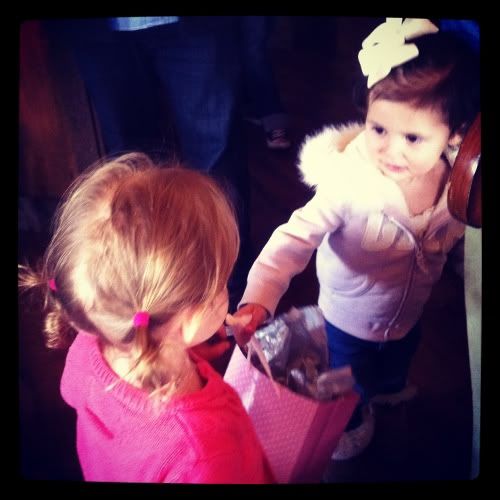 (Friends give love)
(Hanging out with Friends)
(Cake time)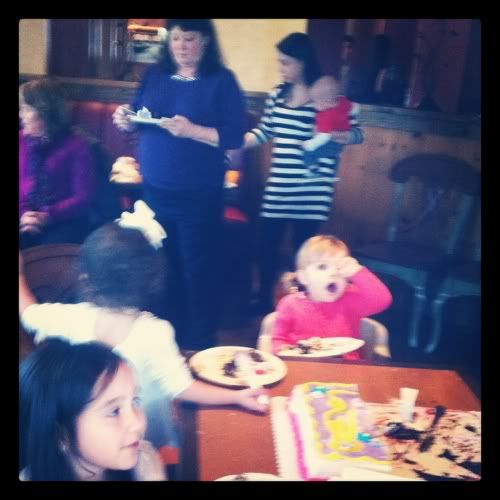 (Getting sleepy)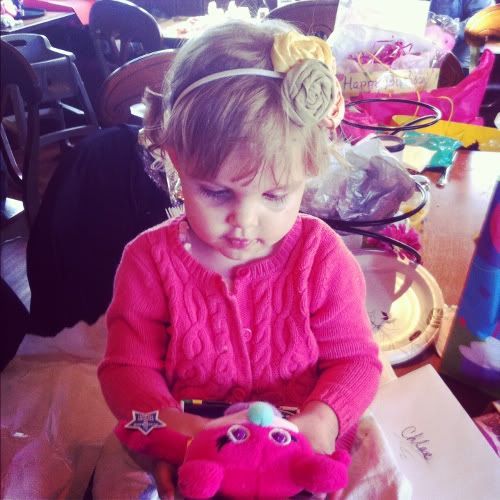 (presents!!!!)
(She got tired of opening, so Mom had to take over for her)