We have been attempting potty training, need I say less? I am sure most have you have either gone through this or know someone who has. In my case I know very few people who have as most of my friends kids are my daughters age. At first I had no idea where to start, so I did what I do when I am clueless. I research, I've been reading article after article trying to find the best method or at least one that most people find successful. I have read about potty wrist watches, potty books, songs, just letting them be free and so much more. After all of this research my head is spinning and I had to take a Tylenol (lol). Needless to say, we are amateurs and need help...
Over the past month or so we have had some silly moment.
Chloe got stuck in a toilet
Chloe reading my fashion magazines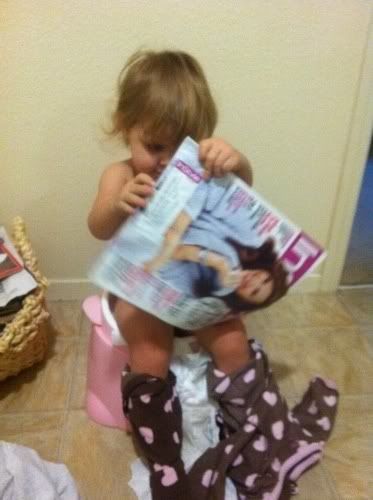 And even though we try a few times a day I rarely get her interested for more than a few minutes or actually using the toilet. At this point in my life I feel like a diaper changing machine. Our trash cans are overflowing and I am always re-ordering more diapers it seems. Sometimes the kids like to play jokes on me and I'll have to change 4 diapers in a row (with just 2 kids). Needless to say, I am so completely over having two babies in diapers. My Chloe bug just turned 2 years old and it's time to get her out of them and into big girl undies.
So if ANYONE out there has some ideas or could tell me what worked best for them I would greatly appreciate it!
Love,
The Diaper Bandit